HISTORY
Chimpanzee Trust was established as a combined national and international initiative and a globally recognized collaborative conservation effort, geared towards developing and implementing a long-term strategy for conservation of chimpanzees and their habitat, with the immediate purpose of establishing a chimpanzee sanctuary on Ngamba Island in Lake Victoria, and such other places in Uganda as the trustees may acquire.
The Trust established Ngamba Island Chimpanzee Sanctuary in 1998 for the care and welfare of entrusted animals while conserving as far as possible the ecosystem of the island.
Our activities include welfare of individual captive chimpanzees entrusted to its care, long-term management of a sanctuary for confiscated individuals that cannot be returned to the wild, intervention to assist individuals in the wild when deemed necessary, conservation education of the general Ugandan public with particularly emphasis on chimpanzees, ecotourism, community participation, capacity building through training, and building viable national, regional and international partnerships on chimpanzee conservation.
We view the role of the chimpanzee as one of the key flagship species for conservation of wildlife in general and as an opportunity to address wider issues affecting the plight of wildlife conservation in general, both ex-suit and in-suit.
We ensures that all its work has the support and involvement of key stakeholders including local community and, as much as possible, becomes economically self-sustaining.
Our Mission
To promote chimpanzee conservation and wildlife management for sustainable development.
Chimpanzee Trust's Vision is that chimpanzee populations are secure in their natural habitats. Chimpanzee Trust is among the leaders in chimpanzee-focused environmental conservation, providing excellent care of rescued chimpanzees, contributing to public awareness and understanding of conservation issues, and engaging with communities living alongside chimpanzee populations.
Core values
Dedication to welfare of chimpanzees, as individuals as well as species
Chimpanzee Trust attaches paramount importance to maintenance of individuals as well as species both in captivity and in their natural habitat. Their welfare is our guiding principle and justifies our pride in CSWCT's existence.

Caregiving
Application of good science
Chimpanzee Trust strives to ensure that all activities are consistent with sound conservation science, principles, and practices, and to address priority needs for conserving chimpanzees in our care, without compromising any ethical behaviour or standards.
Ngamba Island
Integrity that earns trust
Chimpanzee Trust undertakes to be honest, truthful, and independent, recognising integrity as a cornerstone for all its work, and to be accountable for its actions and for the funds it employs. Its staff aims for excellence in performance of their duties and in personal conduct, ensuring and justifying high levels of public confidence.

Chimps feeding
Our Team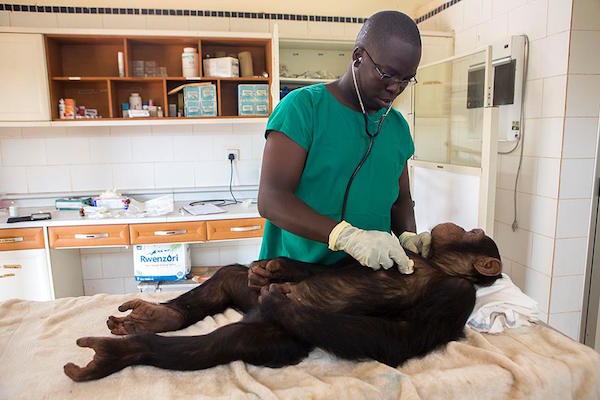 Dr. Joshua Rukungo is a well trained and experienced veterinarian with a passion for wild life. His previous wildlife experiences include the care of lions and hyenas in Queen Elizabeth Nation park before he delved into domestic veterinary medicine in Kamuli, Ssembabule, Rukungiri, and Mbarara, and most recently in private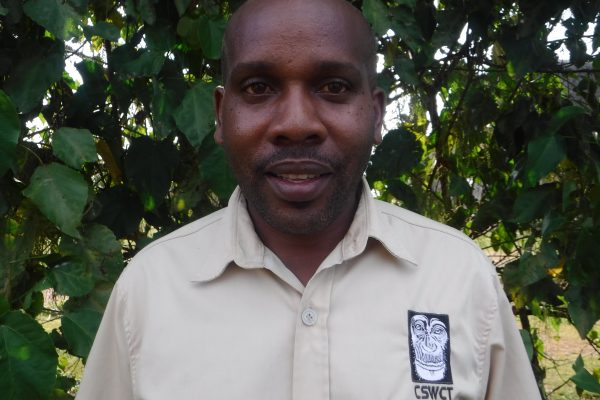 "Because these chimps need special care, I would like to see people help them where they can." - Stanley grew up in Kisoro district with his parents, three sisters, and brother. He has always enjoyed playing football and plays whenever he can. Before coming to work on Ngamba Island, Stanley
Executive Director of the CSWCT, she has grown up in Uganda and directing the Trust since its very start. Lilly graduated with honors, earning a Bachelor of Arts degree in Social Sciences from Makerere University in Uganda.
My story is pretty short— from intern to reservation officer. That's it! Although if told elaborately, this is how it would be told. I had always wanted to work with a conservation organization that had a back ground of sustainable tourism in it because that's what I majored in as
"The chimps are like people,i see myself in them." My children grew up with Ikuru. I know this may sound like pet trade but that's not how it all happened. My husband worked at the zoo, matter of fact we lived in the staff quarters at the Zoo but I
As an accountant, it is very important to know where the money of the organization you work for is spent to be able to understand the urgency and the need to attend to certain requests faster than others. For me that happened when I visited Ngamba Island Chimpanzee Sanctuary during
"Work until you no longer have to introduce yourself " In my culture chimpanzees are seen as bad animals because they destroy people's crops and kill people. But my experience at Ngamba Island Chimpanzee Sanctuary, is starting to change that mindset because I'm learning that chimpanzees will only destroy your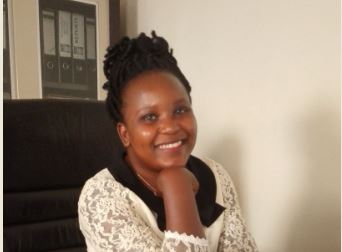 Selling a destination is never quite an easy job but selling the chimpanzee destination always puts a smile on my face because I get to tell the most amazing stories about our resident friends, colleagues, our gang of pant hooting brother's and sister's you name it. From L-Irene Atuhairwe, Abel
"working with Chimpanzee Trust is stress free", When I volunteered here, I didn't know exactly what I I would be assigned to do so I prepared myself for whatever would come my way. Whether it was to cook, mop, seat at the front desk whatever it was, I was
A Japadhola who hails from the Northern part of Uganda. He loves debates/Public discussions and has always loved nature and wildlife thus his position of caregiver which calls for taking care of these endangered species Amos joined the organization in 2004 at that time he was among the people that
When I was a student at Nkumba University, I met two Care Givers, who worked at Ngamba Island Chimpanzee Sanctuary in my course. Apparently they had come back for further studies. As we became acquaintances, they told me about Ngamba Island and the chimpanzees in their care and I admired