1 Day Ngamba Chimpanzee Tours

Take a boat cruise out on Lake Victoria to Ngamba Island Chimpanzee Sanctuary and have a chance to view chimpanzees feeding. You will also be treated to sights of monitor lizards, birds, and photographic opportunities. We arrange both half and full day trips and our boats leave at either 9:00am or 12:45pm,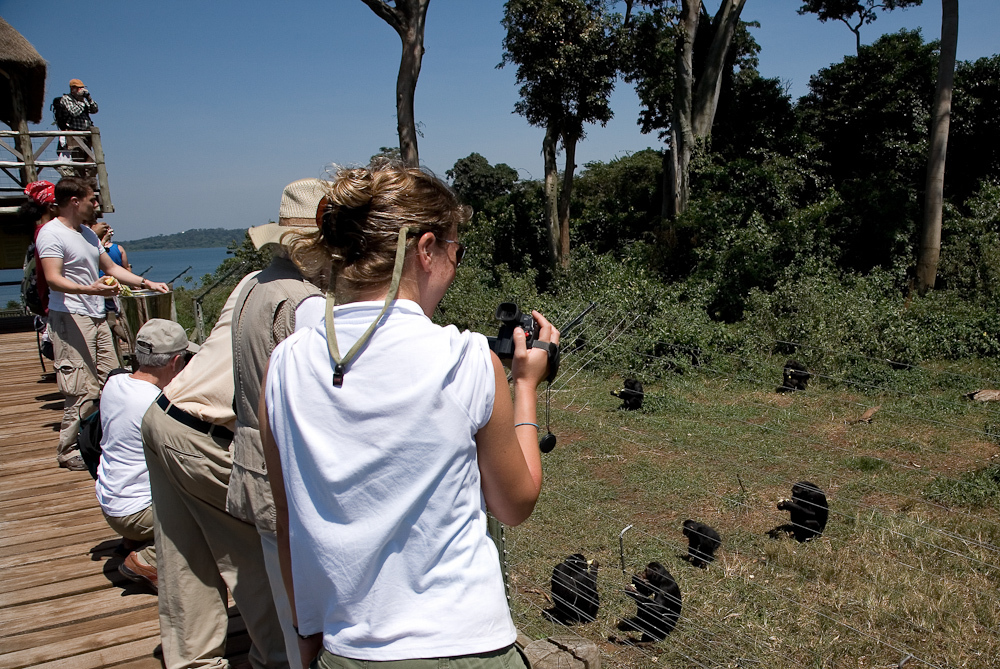 Upon arrival at the sanctuary, you will be directed to our visitor's center where you will be given an introduction to the project, its history, our residents and their plight. On each of the two types of day visits (half day and full day), you will receive an educational orientation by a chimpanzee caregiver and view a feeding of the chimpanzees (full day visitors will view 2 feedings) from the visitors' raised platform area along the edge of the sanctuary fence.
AGE RESTRICTIONS
None, all ages welcome
ACTIVITIES
Chimpanzee viewing and feeding, island shopping, bird watching, swimming on the equator, visiting a neighboring fishing village, Bird watching, experiencing other wildlife encounters, or simply sunbathing and relaxing.
Additionally, you can enjoy our sumptuous lunches ranging between $10- $15. Packed lunches and drinks to the island have been suspended, prompted by the difficulty of controlling the litter associated with the personal items; the ban seeks to enforce Chimpanzee Trust's Environmental Management Policy and System, which has been in place since the founding of Ngamba Island Sanctuary.
Our day visitors can also 'get their hands dirty' by being part of the feeding team. This is an opportunity for you to feed the chimpanzees from the platform. On top of being able to feed your favorite chimp, you will also watch as the chimps excitedly receive from you. This activity is subjected to management exclusion and policies.
We encourage you to book your trip in advance to ensure availability and avoid disappointment.
FEES/PRICE
Speedboat
The boat ride departs from water front beach and takes s approximately 45 minutes in transit weather dependent and all rates are inclusive of entrance and guiding fees.Timings for viewing are;Morning viewing 9.00am -1.00pm and  Afternoon viewing 12.45pm- 5.00pm
1 Person $326
2 Persons $168 each
3 Persons $118 each
4 people/more $88 each
Motorized Canoe
The boat ride departs from water front beach and takes s approximately 90 minutes in transit weather dependent. All rates are inclusive of boat transfer return, entrance and guiding fees.Timings for viewing are; Morning 08.00am – 3.00pm and  Afternoon 10.30am – 5.00pm
6 People  $84
7 People  $78
8/more People  $73
Note: The above rates are a guidelines and subject to change at the discrete of management