Ngamba Island Luxury Tent Experience
Treat yourself to an East African luxurious tented camping experience on Ngamba Island. Nestled just above the water's edge and overlooking the beautiful Lake Victoria these tents come with full amenities including electricity, bathrooms, hot water showers and a private deck. Our hospitality staff has been internationally trained at Disney resorts in Florida and we bring that same level of attention & care to your stay.
After an evening campfire where we entertain you with the rich Ugandan culture of music and dancing, you will fall asleep to the sounds of water lapping and occasionally. the lively pant hoots of the chimps! Nothing can quite capture the 'Out of Africa' feel of staying the night on Ngamba and waking up to the unparalleled beauty of island life. And of course, this is no ordinary island because you'll be 'camping' with the 49 resident chimps…a truly magical experience.
You'll also enjoy freshly prepared meals provided by friendly camp staff in either our relaxed covered dining area or open dining area beside the lake. We offer multiple course dinners and local specialties, such as fish, whenever possible. Hot beverages including tea and coffee are available at all times on a self-serve basis.  Cold drinks are available on a cash sale basis and include water, soda and beer.  A basic selection of wines and spirits are also available from the cash bar. Guests are also welcome to bring their own beverages.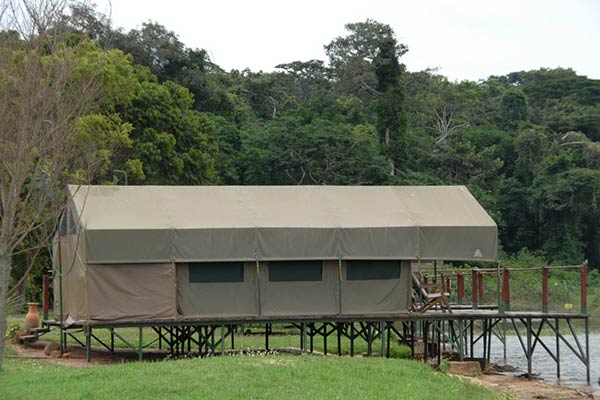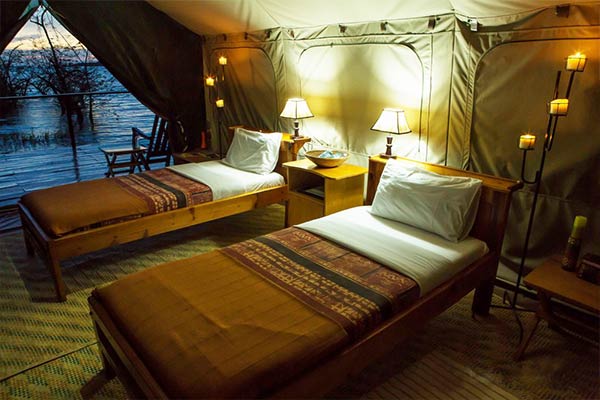 CAPACITY
4 permanent luxury tents, double rooming
10 standard camping tents, double rooming
5 standard camping tents, single rooming
AGE RESTRICTIONS
None, all ages welcome
AVAILABLE ACTIVITIES
Chimpanzee viewing and feeding, forest walks, sunset cruises, caregiver for a day, fishing, visit to neighboring islands. LEARN MORE about the different activities.
HOW TO BOOK:
Ngamba Island Reservation Office: (Ngamba Island is managed by the non-profit Chimpanzee Trust)
EMAIL: RESERVATIONS@NGAMBAISLAND.ORG
TELEPHONE: +256 414 320662 AND +256 758 221880