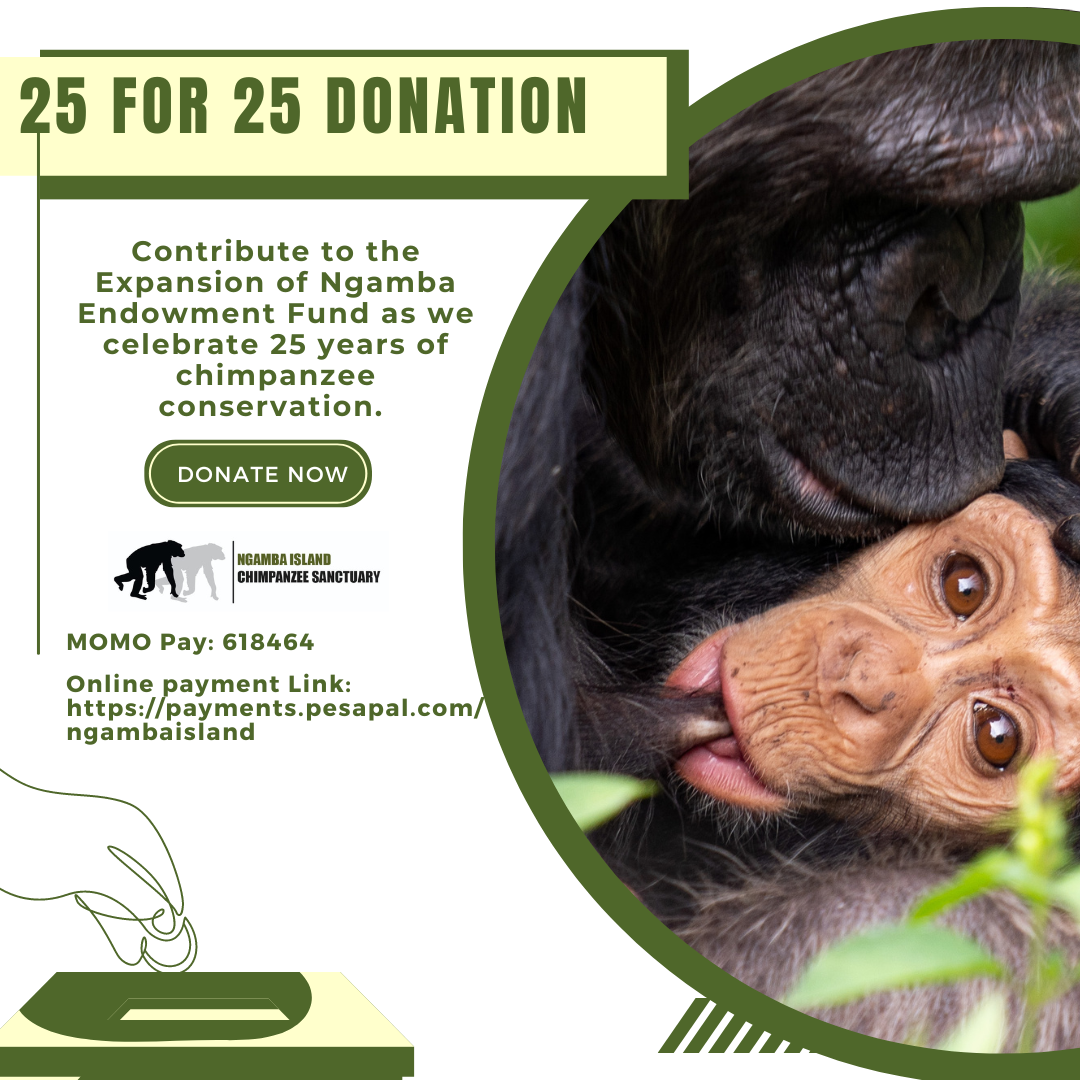 We are excited to announce our "25 for 25 years" campaign, and we invite you to join us in making a meaningful difference for the chimpanzees at Ngamba Island Sanctuary. With your support, we aim to provide lifelong care for the 52 orphaned and confiscated chimpanzees for the next century.
You can contribute to this campaign by considering a donation in any denomination that includes the number 25. Whether it's $25, $250, $2,500, or any amount that resonates with you, every donation will help us expand our endowment fund, which serves as a financial backbone for the ongoing operations and long-term sustainability of the sanctuary.
Our total goal for this campaign is $250,000 
We have already received support from 13 generous donors, and we are grateful for their contribution. However, we still need your help to reach our goal.
By participating in the "25 for 25 years" campaign, your donation will directly support critical aspects of our sanctuary's work:
 Captive Chimpanzee Welfare: Your contribution will ensure the provision of high-quality veterinary care, feeding, enrichment, and comfortable habitats for the chimpanzees under our care. With your support, we can maintain their well-being and offer them the best possible life.
Wild Chimpanzee Conservation: We are committed to conserving wild chimpanzee populations and their natural habitats. Your donation will aid in reducing human-wildlife conflict, protecting the forest habitat, and raising awareness about the importance of chimpanzee conservation.
The long-term impact of your support is significant:
The survival of the orphaned and rescued chimpanzees on Ngamba Island serves as a representation of the plight of the species.
The protection of wild chimpanzees and the reduction in the destruction of their forest habitat.
The reduction of human-wildlife conflict, promoting peaceful coexistence.
Continuation of conservation and environmental education to children affected by the shutdown of schools due to the COVID-19 pandemic.
We are grateful for your consideration and any support you can provide. Your donation, regardless of the size, will make a difference in the lives of these chimpanzees and contribute to the long-term sustainability of Ngamba Island Sanctuary.
To make a donation;
Momo Pay; 618464
Online Pay: https://payments.pesapal.com/ngambaisland
Thank you for being a part of our mission to ensure the welfare and conservation of chimpanzees.