VISIT NGAMBA ISLAND
Discover first-hand what it takes to care for 49 chimpanzees living in a sanctuary setting where they have 95 acres of forest to roam every day. See how much food they eat, meet the team who care for them and watch chimpanzee social behavior up close from a viewing platform that overlooks the forest.
You will also learn about chimpanzee conservation efforts in the wild and the greatest threats facing their extinction such as habitat encroachment, poaching and the illegal pet trade. If you're interested in staying for longer than a day, check out our different tour packages HERE.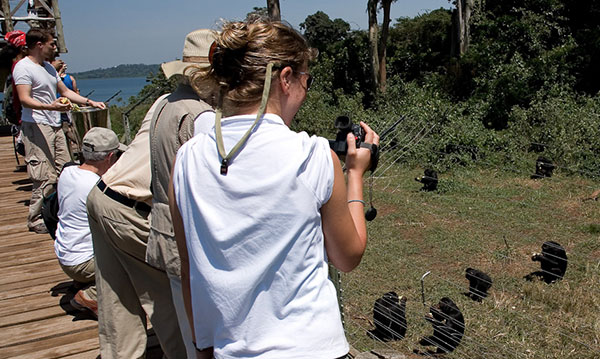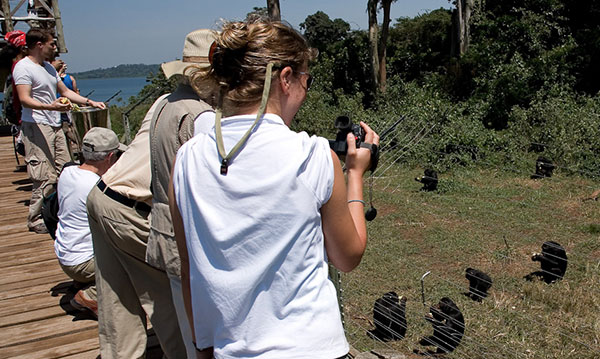 HOW TO GET TO THE ISLAND
There are different types of boats catering to various groups and budgets. Boats can be booked through the Ngamba Island Reservations Office:
Speedboat travel from the dock in Entebbe to Ngamba Island is approximately 45-50 minutes; travel by traditional motorized canoe takes approximately 90 minutes and by air it's approximately 20 minutes from Entebbe Airport or Kajjansi Air strip.
Independent operations also offer visits to the island. You can arrange your own transport, but make sure that you check availability with Ngamba Island Reservations Office to avoid disappointment. We strongly recommend that you book your lake journey directly with Ngamba Island Reservations Office or travel with a reputable company to ensure your safety.
No matter which method you choose for travel, pre-purchased entrance tickets from the Ngamba Island Reservations Office must be shown upon arrival at the island.