Ngamba Island Wish Lists
We have several specific projects critical to the ongoing care & welfare of the sanctuary. Below is a summary of each project. We also have a PDF available for you to download and use in your fundraising efforts. Detailed information on each project is available upon request.
Please CONTACT US directly with any questions or for more information. If you are based in the U.S., you may also contact our partner, Friends of Chimps with questions or to donate to one of these projects. Thank you so much for your support!
You will be redirected to the website for Friends of Chimps.
New Roof for the Nighttime Holding Facility $2,800
The holding facility houses those chimpanzees who decide to return from the forest in the evenings. They have wonderful 'hammocks' up near the roof mimicking wild conditions.
There they build nests in treetops. The roof is made of painted steel sheets and was last replaced in 2000 so has become worn over time.
Updated Water System - $8,000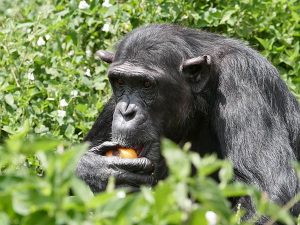 Over the past three (3) years, we have been making small improvements to our existing water system originally installed 18 years ago. Being an island sanctuary we extract, filter and store water
from Lake Victoria (70,000 square miles in size) as well as collect rainwater. We installed the current filtration system in 2006 but we urgently need to replace this as well as update the piping and increase the size of the reservoir tanks. This water supports over 30 staff as well as the chimp holding facility, medical ward, and tourist areas. FUNDED
Equipment for New Medical Ward - $12,000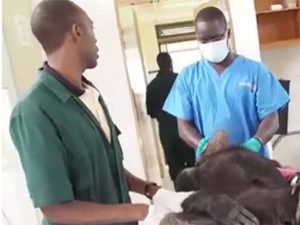 Currently, when a chimpanzee falls sick we have to isolate them from the rest of the community causing great stress and even depression for the individual.
The construction of our new, fully funded medical ward will allow us to provide immediate care significantly reducing the time an individual is separated from the group. We now need additional funds to stock the medical ward with new, state of the art equipment and supplies so we can continue to provide life-saving, world-class care.
Solar Power System for New Medical Ward - $5,900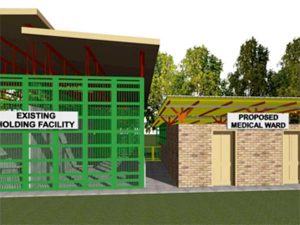 A brand new medical ward for the chimpanzees has been funded and is in the beginning stages of construction. We would like to add a solar system to the roof to power the medical ward
as well as backup power for the sanctuary. We are looking to fund a complete system with twelve (12) 100watt panels and a battery bank.
Completion of Retaining Wall - $30,000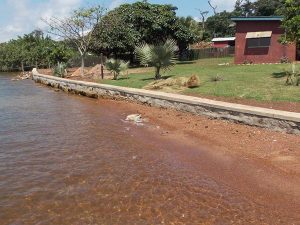 In 2016 Ngamba was hit with devastating storms that completely wiped out the retaining wall around the perimeter of the island that houses staff and tourists.
Over 150 meters (450ft) has been rebuilt but we need funding to complete the remaining 150 meters that protects the overnight guest tents. As you can imagine, being an island sanctuary, the retaining wall is essential to the safety of the staff, chimps, and tourists.
 Transportation for Staff & Chimp Food - $52,000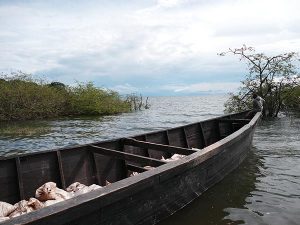 Traveling to Ngamba Island is a 45-minute boat ride from the mainland. Food deliveries and staff rotations occur every five days with the boat currently being chartered by
an outside company at a significant annual cost. We would like to purchase two (2) fiberglass boats, one to keep on the island for emergencies and the second for the regular trips to haul food and people. This funding need includes one full year of fuel costs.
Tablets to Record Vital Medical & Environmental Data - $7,700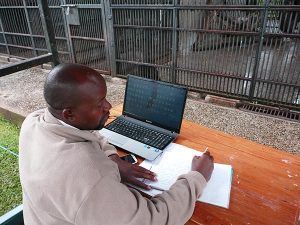 The veterinarians and caregivers currently use outdated laptops or paper notebooks to record and maintain critical records on each of the 49 chimps.
Tablets with a custom program will allow for consistent and centralized data collection in real time.
Not only will this improve the overall quality of care for the chimps it also greatly increases the efficiency of the staff. We are in need of 11 tablets (2 veterinarians, 9 caregivers).

WE HAVE RECEIVED 2 LAPTOPS.