Adopt a Chimp program
Would you like to help care for orphaned and rescued chimpanzees by becoming a guardian?
CHIMPANZEE TRUST is a Non-Government Organization (NGO) with a mission "to sustainably conserve chimpanzees in their natural habitat and provide optimum captive care to those who cannot survive in the wild."
Chimpanzee Trust manages Ngamba Island Chimpanzee Sanctuary, a home to 50 orphaned and rescued chimpanzees in the heart of Lake Victoria.  The welfare of the chimpanzees in our care is our primary objective, however providing the chimpanzees with all the food, shelter, medical care and love is only possible thanks to the generosity of trustees, donors, and other supporters.
The Guardianship program not only gives you the opportunity to help chimpanzees in need, but also recognizes your generosity.
What adoption packages are available?
You can choose from the following adoption packages.
Alpha Adoption $100 (This donation will go towards maintaining the chimp facilities for a month.)
This package includes;
Adoption certificate
Your name displayed at the feeding platform
Adopted chimp profile
Adopted Chimp quarterly updates
Individual Adoption $50 (This donation will go towards the care of 1 chimp for 5 days)
This package includes;
Adoption certificate
Adopted Chimp profile
Fact sheet about chimps
Students $20 (This donation will go towards feeding 1 chimp for 2 days)
This package includes;
Adoption certificate
Adopted Chimp Profile
In partnership with our U.S. based non-profit partners, Friends of Chimps and Pan African Sanctuary Alliance , you can make tax-deductible donations through them.
You can learn more about their work at their website: ADOPT ONLINE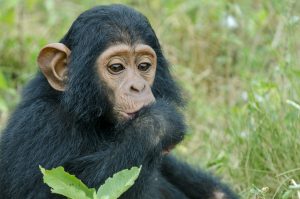 If you'd like to Adopt a Chimp, we encourage you to first read their individual stories on our Chimp Profiles page. You're guaranteed to fall in love with at least one of them!
A big pant-hoot thank you in advance for your support, we couldn't do it without you!