Chimpanzee Trust's school outreach program is aimed at passing conservation knowledge to the future generation. This has been done through enhancing schools' participation in conservation education activities at the local, national and international level. The school outreach program is done in three (3) operational areas these are schools neighboring Ngamba Island Chimpanzee Sanctuary, schools in the Northern Albertine rift landscape and schools around Entebbe.
Music Dance Drama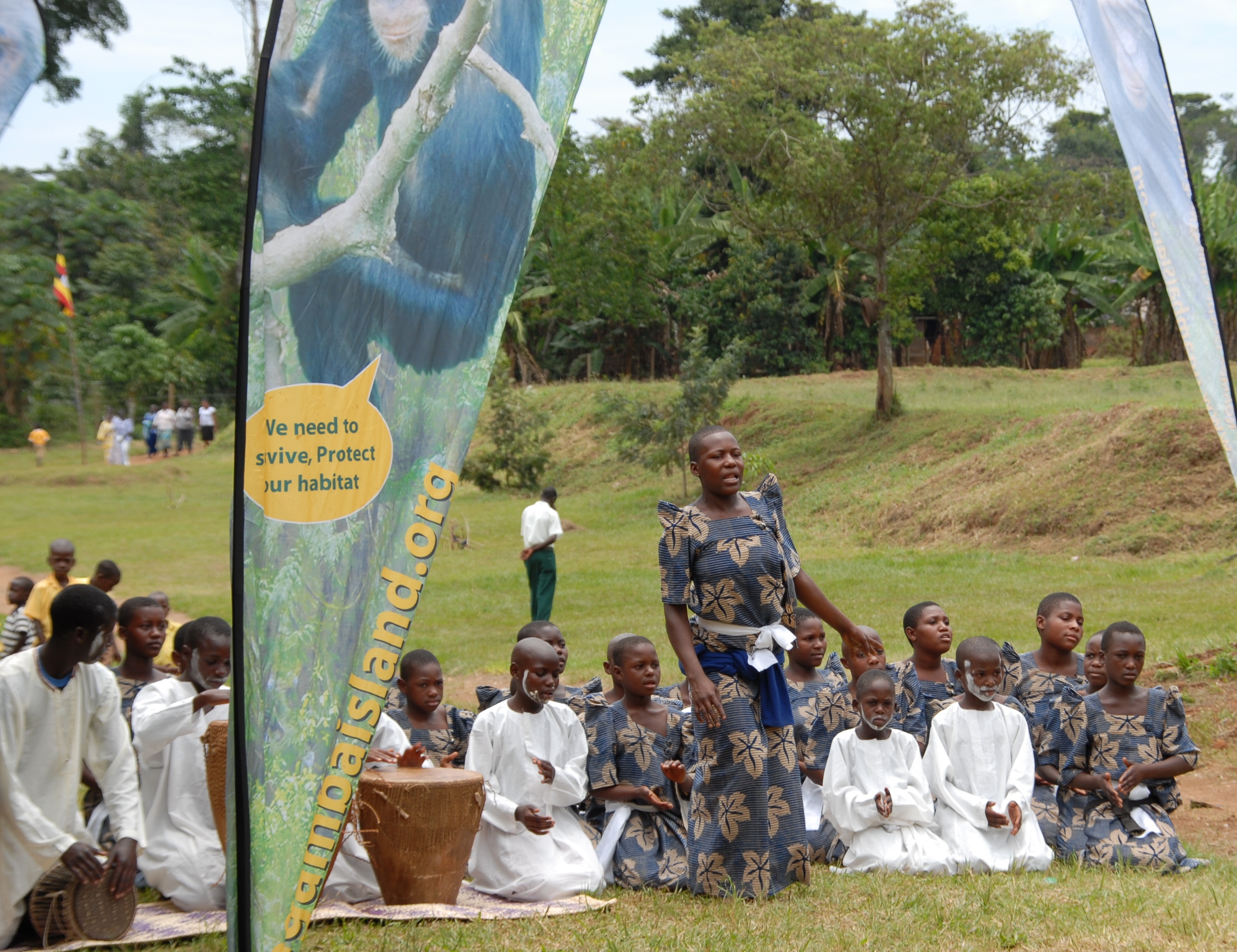 Despite little success to pass on its conservation messages through music dance and drama at National level, the Chimpanzee Trust works closely with Wildlife Clubs of Uganda (WCU) to organise music dance and drama competitions during key conservation events.
The Chimpanzee Trust also organises  an annual event to create awareness on conservation education among schools on Koome Islands, 13 primary schools are actively involved in this program. Music Dance and Drama contributes to talent deelopment and it improves the learning experience of children hence reducing pupils' dropout rate among the island community schools.
Debates and Quiz Competitions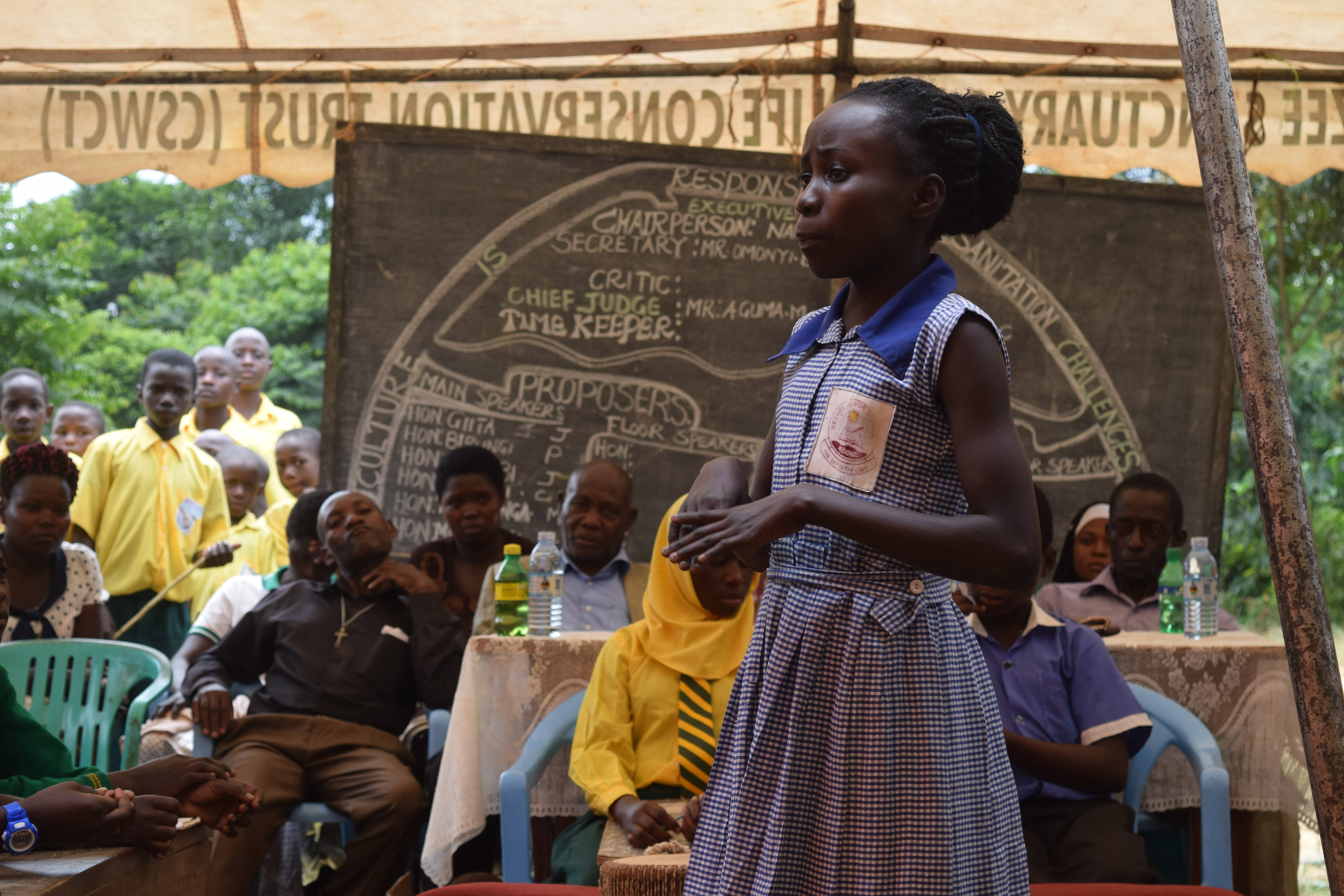 Teachers from schools working closely with Chimpanzee Trust meet to come up with a theme for the year in line with nature conseration, set up or modify the existing guiding rules, and decide on the hosting community or school.
This annual event brings together 13 island schools that debate and participate in a quiz competition to create awareness on nature conservation. Parents are always amused by what their children can do. The activity over the years has improved the children's communication skills, public speaking and grades in school. We appreciate the support of Born Free Foundation who has sponsored this program over the past years. To support this activity click here
School-Based Enterprises (SBE)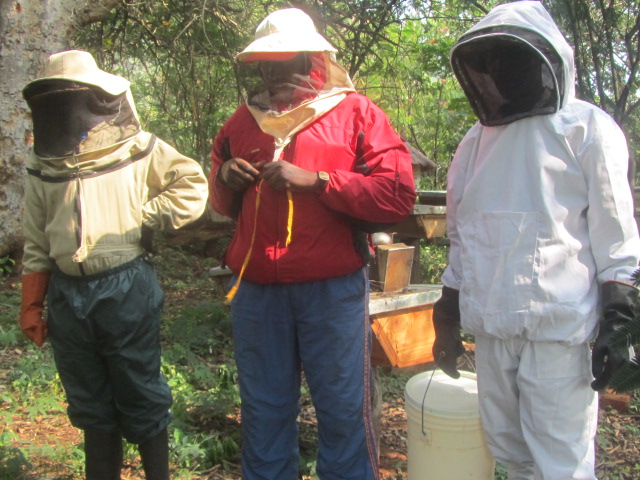 Youth unemployment remains a serious policy challenge in many sub-Saharan African countries, including Uganda. Rapid population growth and high unemployment of youth (national definition, 18-30 years) in Uganda was at 64%. (UBOS, 2013)
The Chimpanzee Trust promotes School-Based Enterprises as a means to bridge the gap between school and the employment world. We promote School Based Enterprises with a bias to education for sustainability (EFS). ," School-Based Enterprises are school entrepreneur activities that produce goods and services, to meet the needs of the schools' market and provide learning experiences for students."
The Chimpanzee Trust is currently working on three school-based enterprises including; Beekeeping at Myende Community school (Link picture), Mushroom growing at Munteme Junior school (Link picture), fruit tree growing at Buyana RC primary school (Link picture).
The Chimpanzee Trust notes the numerous benefits that School Based Enterprises provide, however the most important is that they provide realistic and practical learning experiences that reinforce classroom instruction and prepare learners for the future employment world.  The School Based Enterprises allow students to apply their knowledge and skills in a "live" business setting where challenges arise daily and people interactions are always varied.
School-Based Enterprises, share several traits with Education For Sustainability, including, flexibility, multidisciplinary, promotion of participation, cultural diversity, gender equity, promotion of the culture of peace and non-violence, global citizenship, skills development, human rights, environment and social-economic sustainability. With this in mind, School-Based Enterprise provides a platform that can easily nurture Education For Sustainability in the school and therefore; Foster personal and social development for worthwhile lives, and acquire, develop, transmit, conserve, and discover a worthwhile culture. (Plant, 2005, p. 24)
To support education for sustainability in schools through school-based enterprises click here.