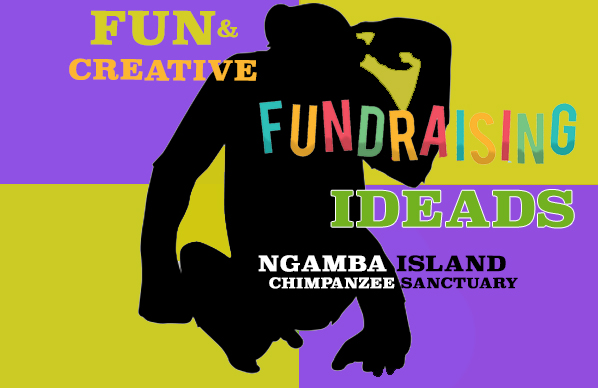 Here are some creative ideas
Paint Party: Have an "art & sip" party at your place or nearby studio and teach attendees how to paint a chimp or nature painting. Provide wine to your (21 and older) guests and ask for donations towards supporting Ngamba Island.
Theme Party/Dinner: Hold a theme party for 10 (or more) of your friends. Donation: $50 per person. Spend no more than $20 per person on the food and you'll have $300 (or more) in donations by the end of the night.
Host a Movie Party at Your House: Pick up a new flick at your local movie store, make popcorn, pick up some soda and invite your friends and family over for movie night. Of course have your fundraising page open and ready to click.
Christmas Gift Pledge: This is a tough one for those of us who love to open up gifts during the holidays, but it's an easy way to reach your pledge minimum. Ask for donations rather than Christmas gifts this year.
Valentine's Day Pledge: It's always sweet to get a dozen roses from your sweetie, but it'll be even sweeter for your sweetie to write you a sweet little check and put it in a card addressed to you.
Delegate: Ask 10 of your friends to contact 10 of their friends to ask 10 of their friends to donate $10 each to help raise money for you.
Creative Friends: Find a local artist or ask a creative friend if they would donate a piece of art or some jewelry that you can auction off.
Game Night with a cover charge: Get out those board games and start playing! Break into teams and let the fun begin.
Bowling Nights: Plan a fun night of bowling at your local lanes. Ask the owner to waive the cost of bowling and you can collect that money and turn it into pledges.
Curse Jar: C'mon, everyone does it. Now they'll have to pay for it. Place a Curse Jar in your office and whenever someone says a bad word they have to open up their wallet, grab a dollar and put it in the jar.
Church Bulletin: Place an advertisement in your Church bulletin letting the congregation know what you're up to!
Is There a Teacher in the House?: Get your students to help you fundraise. Kids are incredibly creative and cute, too!
Universities and Colleges: Contact your local schools and ask if you can put an advertisement in their school newsletter asking for donations. Some of the organizations may even invite you to make a short presentation.
Fraternities and Sororities: Contact the National Chapter of your college Fraternity or Sorority and ask them to make a donation.
Alumni Organizations: Call your own college or university and ask them to place an ad in the alumni newsletter asking for donations.
Your Own Personal Friend Matching Gift: Ask a friend if they can investigate getting their company to match pledges. If they donate $500 or more, we will put their Company website on your Bio page for the world to see.
Corporate Sponsorship: Identify one or several large companies and contact them directly. They may be willing to sponsor you completely. If they donate $500 or more. we will put their Company website on your Bio page for the world to see.
Fundraising Ideas: Often, the most challenging part of fundraising is coming up with a creative idea that will motivate the troops. Here are 25+ Fun and Creative Fundraising Ideas for school fundraisers or non-profit charity events. They are sure to help you raise lots of money fast.
Although they often do, schools should not underestimate the value of fundraising. Fundraising can help schools offer scholarships and new programs, maintain academic excellence, and complete major projects. Having a well-planned and well-executed fundraising strategy can make all the difference between thriving and simply surviving for most schools.