Experience the flexibility and individualized services of a small group guided trip with life-changing animal experiences, cultural connections, and an overnight stay in our opulent Ngamba Ecolodge. The 3 days chimpanzee safari at Ngamba Island will take you to the home of 52 chimpanzees. It will be coupled with boat rides on lake victoria, community interactions, and enjoy behind the scenes experience at Ngamba Island.
Enjoy chimpanzee views, feeding and interacting with one another
Incredible Boat Cruises on Lake Victoria
Chimpanzee tracking at the water's edge
Watch chimpanzees make their nests
Visiting fishing village
Sunset cruise on Lake Victoria
Borne Fires.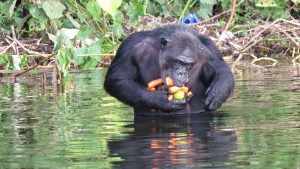 The tour starts with departure to Ngamba Island using speedboat transport either with the morning departure of 9:00 am, Afternoon departure of 12:45 pm, or Evening departure of 5:00 pm/17:00hrs.
Depending on the departure time you choose upon making your reservation or booking, you will arrange your pick up or can assist with that at an extra cost up to our jetty or pier called Waterfront Beach(on google maps).
Upon arrival, you will meet one of our staff who will welcome you and take you through the entire itinerary of the 3 days chimpanzee safari. Ngamba Island, which is 23 kilometers from Entebbe town and it takes approximately 45 minutes to get there.
The Ugandan Equator will be crossed on Lake Victoria during our journey, and the skipper will halt there to pause for photos and swimming (optional).
Your guide will greet you when you arrive at the island, you will be staying at Ngamba Ecolodge whose architectural design is of an East African style, with solar lighting and a view of Lake Victoria.
On an elevated platform, you will later be able to see chimpanzees dining up close, allowing you to witness them eating, playing, and behind the scenes when they prepare their nests.
Join us for a special sunset cruise as the day draws to a close. You'll see fisherman throwing their nets, fishing towns closing up shop, and, of course, the golden-circular sight of nature's eye drifting off to sleep. As you enjoy cool drinks in a blissful amorous mood.
Have a cup of coffee or tea in the morning, and then your tour guide will pick you up for another thrilling activity that lasts 15 to 30 minutes. You will discover how a chimpanzee's day begins, from waking up to eating breakfast.
Following your return, you'll have breakfast and get ready.
Later, you'll board a boat to travel to another Island, where you may go on a nature walk, see birds, and enjoy breathtaking overhead views of Ngamba Island. return for a leisurely lunch
Later, you'll participate in another thrilling activity called "tracking chimpanzees" near Lake Victoria's shores. You'll have a boat tour with your guide and a wildlife expert.
Later, you will take part in another thrilling activity called chimpanzee tracking near Lake Victoria's shorelines. For this, you will board a boat with your guide and a bucket of food. You will start to hear various sounds as you go closer to the area where the majority of chimpanzees congregate to drink, some of which you may decipher or your guide can translate for you. Chimpanzees interpret the calls (sounds) made by the guide or Animal Keeper as "it's snack time."
As you draw nearer, you will see more than 20 chimpanzees in an open area divided by water, staring at each other. You will be astounded at how they (chimpanzees) catch the food and wade through the water to avoid drowning.
The last day of the three-day chimpanzee safari at Ngamba Island allows you to reflect on all you have learned about the chimpanzee species and the beauty of the island in a more laid-back atmosphere. You will have breakfast, explore the island, or simply unwind on the balcony or terrace of Ngamba Ecolodge. At 12:00 pm/noon, the boat will be prepared for your departure.
English speaking guide
Full-board Meals (B=breakfast, L=lunch, D=dinner)
Bottled mineral water
Entrance fees
Activities and excursions mentioned in the program
Accommodation at Ngamba Ecolodge
International flight
Visa (USD $50)
Hotel fees are not mentioned in the itinerary
Meals and drinks not mentioned above
Items of personal nature
Other Trips